Ordering a Uniform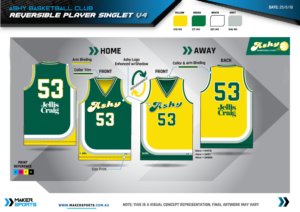 All players of the Ashy Basketball Club require a uniform to play and players are responsible for purchasing a uniform. Please note: that the original stitched singlets are no longer to be used. All players must have a reversible Ashy singlet. The original stitched shorts can still be worn. For all standard games the green side should be worn.
Uniforms are currently ordered online at the time of registration on the SportsTG website. For orders required mid season, players need to contact the uniform coordinator. New orders take up to 5 weeks to arrive.
Singlet Numbers
Player singlet numbers cannot be requested and are determined by the uniform coordinator. This is to ensure there are no duplicates within age divisions.  For replacement uniforms the player number will be reordered. If your singlet number clashes with another player in your team, please contact the uniform coordinator to arrange a solution.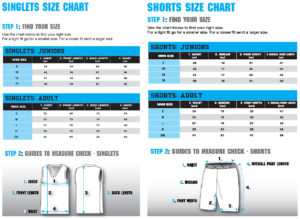 Sizing
Sizing needs to be decided by the purchaser. Uniforms are supplied through Maker Sports and come in both junior and adult sizes. Please see the sizing chart below.
Ashy Clash Matches
When 2 or more Ashy teams are in the same section and play against each other one team must wear the singlet in reverse, with the yellow side showing. If you team is the first listed team in the Waverley fixture (i.e 1 v 4 with you team being 1) then your team is required to wear the alternative yellow side.
Teams should be proactive and arrive at the court in the alternate colour before the game commences to avoid delay and possible late start points.
Fill in players
If your team requires a fill in player it is the team manager's responsibility to ensure that the fill in player's singlet number does not clash with any other team members.
If there is a number clash please contact the uniforms coordinator to arrange a loan singlet for the game.
Loan singlets must be returned, laundered within the next week.